Announcing 'Hack the Sybil' Hackathon Winners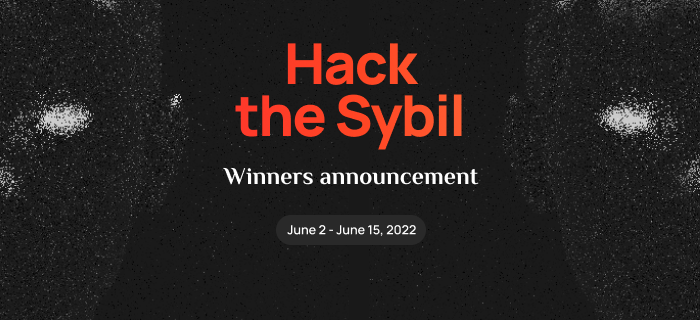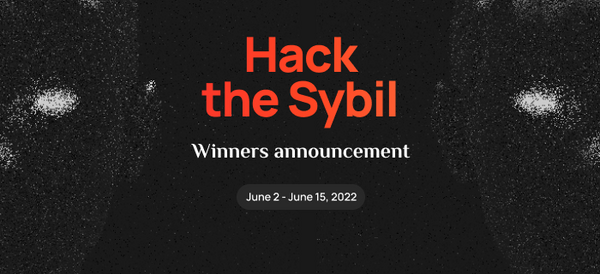 Almost two months long, "Hack the Sybil" Humanode's first hackathon officially ended on July 27th. And the winning projects of each award are finalized. This hackathon marked a new phase in building a well-functioning, versatile, and Sybil-resistant ecosystem.
Thanks to the help and support from our partners Wintermute, Republic, and other VCs, the event has achieved more than we expected. Open to the developers, builders, hackers, entrepreneurs, and other members of the progressing web3 community, Hack the Sybil attracted more than 100 builders and hackers – who developed 29 unique and creative solutions to cater to the Sybil attack problem in blockchain and web3. We even got fully deployed projects uniquely designed for the Humanode ecosystem.
To give some details for those who haven't participated: Hackathon's purpose was to encourage builders to develop anything utilizing the principle of Sybil resistance. By anything, it means builders can create different dapps, and protocols that solve problems, for example, Sybil-resistant p2p marketplaces, biometric-based NFTs, 1p1v DAOs, Sybil-resistant social networks, biometric-based DID, and more.
The prize pool for the Hackathon was $30,000+ and the best projects can also receive grants from Humanode. Prizes are to be awarded to the individuals/teams that come up with and demo the most interesting application and tools for human nodes or develop a Sybil-resistant app using Humanode biometric API and/or Humanode EVM compatible chain.
The projects submitted cater to a variety of industries including media, p2p marketplaces, healthcare, financial ecosystem, and more. Our jury that evaluated the projects consisted of renowned founders and the best developers in the blockchain ecosystem:

1- Alex Ye: Partner at Republic Crypto, Economist. Previously at ZZ Ventures, UChicago Investment Office, and Top Tier Capital Partners.
2- Calvin Chu: Core builder of Impossible Finance. Ex Binance researcher. UChicago Economics & Statistics
3- Alexander Bokhenek: Co-Founder and CTO at Byzantine Solutions and CTO at Pledger Capital. Software Dev and Blockchain researcher since 2014.
4- Ivan kamakin: Tech Lead at Republic crypto, Lead Architect at Pledger Capital
5- Evgeny Gaevoy: CEO @ Wintermute Trading. Ex European ETF business at Optiver. London Business School MBA, MSc in Finance, and BSc in Economics.
6- Dato Kavazi: Co-Founder at Humanode; Director and Head of Strategy at Paradigm Research.
7- Victor Smirnov: Co-Founder at Humanode; Managing Partner and Head of Fundamental Analysis at Paradigm Research.
8- Aleksandr Neiasov (Sesh): Senior Frontend Engineer at Humanode. Web, game, and mobile developer.
The decisions of judges were almost unanimous.
Time to announce the winners of the Hackathon
Seeing the overwhelming participation in the Hackathon, we are excited to announce the winners. Although with all those incredible projects, it was tricky to choose the best ones. However, after thoroughly evaluating all the qualified projects, our judging panel has finally decided on following 4 projects as winners.
1- Human Collective
The first prize goes to one of the best all-round products. Not only does this project has some use-cases and a user fit but also serves as the infrastructure upon other projects to be built upon.
Description: Zero-Knowledge Proof of Human Collective (inclusion and exclusion) with Bio-Authenticated Sybil-Resistance from HUMΔNODE. A DAPP for managing human collectives, members, proofs, and verification with a voting system.
Human collectives are comprised of zero, one, or more unique humans.
Inclusion: (Membership) Wtih zero-knowledge cryptographic proofs, a human can prove that they are a member of a particular collective (a group of humans) while remaining anonymous and not revealing any identifying information.
Exclusion: (Non-Membership) A human can also prove that they are not within a particular collective, without revealing their identity.
Other humans or automated systems can verify the proofs of collective inclusion or exclusion. Cryptographic assets are provided to generate and verify proofs within a browser as a Decentralized Application (dApp). A solidity library is provided to verify the zero-knowledge proofs on-chain within smart contracts.
Collectives may function as a Decentralized Identifier (DID). In the case of a collective of only a single human, it may function as a bio-authenticated DID for that human. A human can create and destroy any number of such identifiers, which only they have bio-authenticated access to.
Membership to collectives may be administered in a number of ways. Collectives may offer public access for any bio-authenticated human to join and leave at will or collective access may be protected by a secret code to selectively grant membership to other humans. A collective with managed membership may have members manually added or removed by the collective creator(s). In any case, a collective is only ever comprised of unique humans as verified by the HUMΔNODE system.
2- Usher

Usher's idea impressed the jury in terms of value propositions for ushering in the concept of crypto partnerships.
Description: Usher is Partnerships for Web3. It enables Web3 businesses to start referral programs where partners can be rewarded in crypto for referring users to advertisers' dApps and projects.
3- Healthify

Healthify is a deployment-ready project that healthcare stakeholders can use.
Description: Healthify is a decentralized hospital management system. Patients can use it to store their data on the blockchain, add Doctors to their accounts, and get treatment details authorized by their doctors. Also with information like drugs prescribed and bill amounts being stored on the blockchain, it would be impossible to tamper with these details.
4- Humanode NFT Minter
The idea of making sure that NFT mints are fairer impressed our judges, and they believe with some alteration, this project could be ready for deployment in the real world.
Description: Humanode NFT Minter is a biometric Sybil resistance NFT minter powered by Humanode technology. Our goal is to solve the problem that NFT bots bring about.
NFT bots make minting NFTs unfair, NFT bots manipulate NFT prices, and NFT bots can crash blockchain networks. Humanode NFT Minter powered by Humanode technology will solve those problems.

People's Choice Award
Apart from these 4 projects, one project that won people's hearts is Face Folder.
Face Folder
A digital safe folder that encrypts and stores your logins, credit card details, or any other personal file and you only have access to your biometrics.
Description: No middleman can access your files because your info is stored in a decentralized way. With Face Folder your passwords will always be accessible, it doesn't matter if you lose access to your phone, just scan your face with Humanode technology and that's it, you have access to your personal files, forever with you.
Humanode wholeheartedly congratulates all the winners. And to claim your prizes, you can reach out to Max Litvinov at max@humanode.io with all the details.
Incubation
Humanode recently signed a partnership with DAO-incubator Occam.fi. All the projects are eligible for one due diligence call with the Occam team, and when projects are ready they can get a full suite of support - marketing, legal, fundraising, and technical assistance.
Closing remarks
From Humanode Conference 2022 to Hack the Sybil, we are grateful to Humanode community contributors and participants for all the support. We will continue to repay your trust with more events in the future. By the way, are you participating in the ongoing Humanode Art Contest? If you are not already, read this announcement.
This time we are happy to see many builders and hackers showing interest in the Hackathon and building such unique and useful projects on top of Humanode technology. It is only a positive signal that our community is growing and people are interested in Humanode technology.
Dato Kavazi, Humanode co-founder appreciated the increasing participation of community members. "I am proud to see community engagement throughout the Hackathon and look forward to more participation in Mainnet launch and Humanode Public sales happening soon,"  said Dato.
Join us on Telegram and Discord to stay tuned and interact with the Humanode community.