Get Ready, Only 3 Days Left Until Humanode Conference 2023!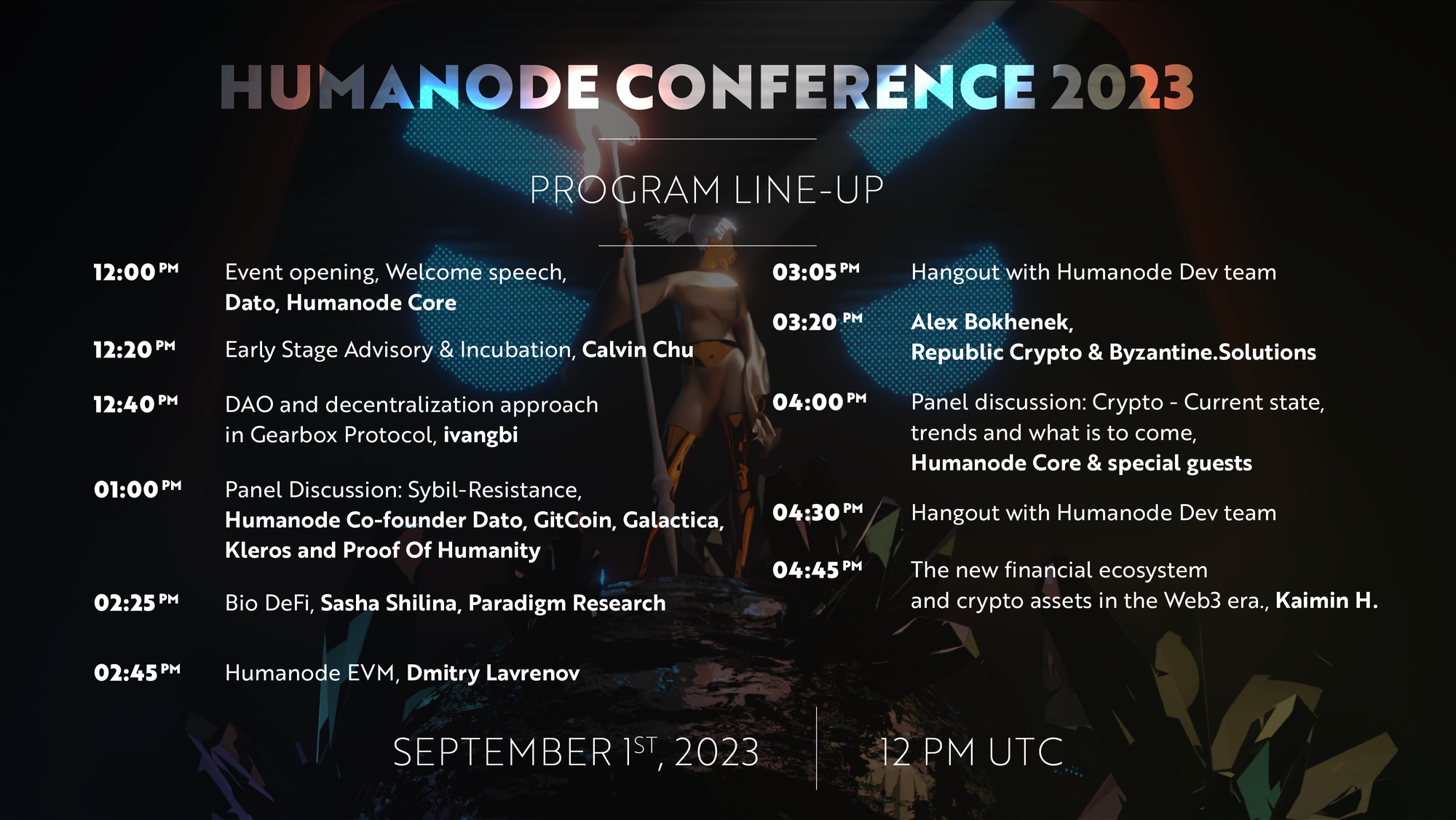 Hey, Human nodes and friends! Can you believe it? Just three days to go until the Humanode Conference 2023 kicks off! The anticipation is buzzing through the crypto-verse like a lightning bolt! ⚡
🗓 When's The Party?
Mark your calendars! This Friday, September 1st, from 12 to 5:30 pm UTC. And the best part? It's virtual, baby! Pop in anytime, from anywhere! Got lunch plans? No worries, join us after. We're flexible like that!
🎙 What's Cooking?
Ready for a brain feast? Here's what's on the menu:
Panel Discussions:
Ever wondered what the future holds for crypto? Or how to make blockchain as human-friendly as a neighborhood diner? Well, wonder no more!
🌐 Sybil-Resistance:
Join the titans of Web3 from —Humanode, GitCoin, Galactica, Kleros, and Proof Of Humanity as they dissect and discuss this cornerstone issue.
📈 Crypto: Current State, Trends, and What's to Come:
Humanode Co-founders Victor & Dato and an all-star line-up of special guests dive deep into the ocean of possibilities and trends shaping crypto's future.
Lectures:
Imagine a TED talk, but way cooler and all about blockchain and crypto. Six incredible minds are about to spill the tea, so you better be ready to sip it!
Kaimin H., Emurgo Ventures & Bitmart on [THE NEW FINANCIAL ECOSYSTEM AND CRYPTO ASSETS IN THE WEB3 ERA]
Calvin Chu, Impossible Finance on [Early Stage Advisory & Incubation]
Alexander Bokhenek, Republic Crypto & Byzantine.Solutions on [TBD]
Sasha Shilina, Paradigm Research on [Bio DeFi]
ivangbi, Gearbox DAO on [DAO and decentralization approach in Gearbox Protocol]
Dmitry Lavrenov, Humanode on [Humanode EVM]
Hangout:
Fancy a casual chit-chat with the brains behind Humanode? Pop into our hangout zones to shoot the breeze with our Dev and Business teams!
🎁 Win Big with Our Quiz:
Stay glued till the end, 'cause we've got a quiz that's gonna pop your socks off! Answer questions about blockchain, crypto, and Humanode for a chance to bag 8 prizes of $50 each in HMND and two grand prizes of $100 each in HMND. Yep, you heard it right!
How to Participate:
All this goodness is going down on Shapespark, a 3D venue that's as cool as it sounds. Picture it: avatars mingling, cameras rolling, mics buzzing. You can be whoever you want to be—a photogenic avatar or just good ol' you!
Seriously, who needs another password to remember? Not you! Just pop in—no login, no hassle.
And that's it! Easy as pie. 🥧
📣 Stay Tuned, Stay Connected:
Keep your eyes peeled and your ears to the ground. Follow us on Telegram or Discord for the latest buzz!
That's a lot to digest, right? But let's face it, it's gonna be one heck of a show you won't wanna miss! So sync those calendars, 'cause the Humanode Conference 2023 is gonna be lit! 🚀