Hack The Sybil! Humanode Hackathon Announcement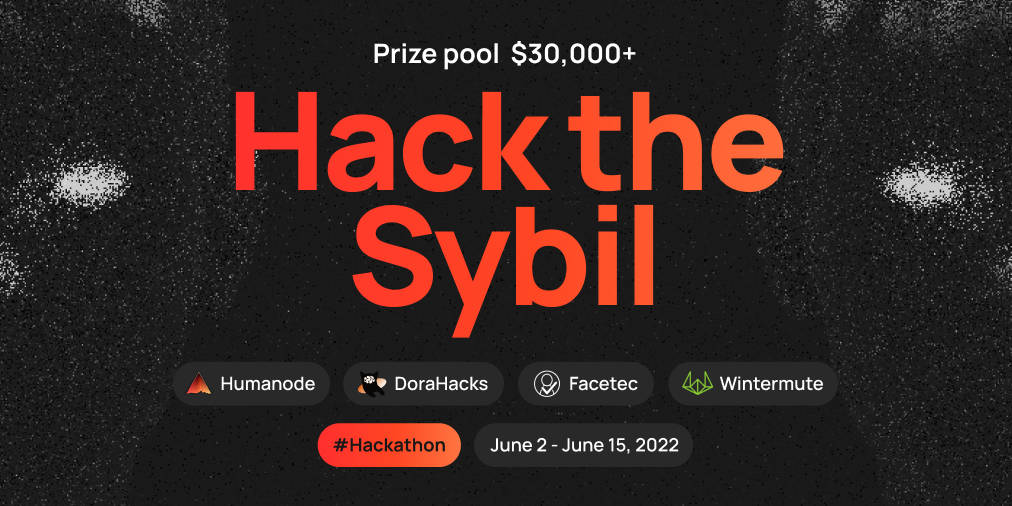 Hello, human nodes!

Although there was a short delay, we are happy to officially announce the details of the Humanode Hackathon  "Hack The Sybil!" which will be hosted on DoraHacks from June 2nd to June 15th!  We are also scheduling a Demo day to show the work of the participants of the Hackathon on June 22nd, and announce the winners once the demos are concluded.

Originally scheduled to run from the 16th of May, the core team made an executive decision to delay the opening of the Hackathon to enable the builders to directly work with our upcoming testnet v3.

The hackathon will include a series of educational workshops that teach participants to build decentralized applications on the Humanode network.

Now, for the information that all of the builders that are lurking in the shadows have been waiting for….. <drum roll>


Tech integration

Ways you integrate Humanode:
Humanode OAuth 2 Service: Biometric Sybil-resistance for dapps
Humanode chain: EVM-compatible network based on equal human nodes
There are five tracks for the Humanode hackathon:
DAO: Build 1p1v or new models of governance other than token-based voting.
UI/UX: Use private biometric authentication to improve web3 experience.
Chain tools: Build the first generation of tools for Humanode chain exploration, analysis or dev tooling.
Dapps for human nodes: Help human nodes (validators) organize, manage and automate all things connected to being an integral part of the network.
Special track: There are endless possibilities across industries: social networks, art, gaming, finance, governance, public goods, and other.

Workshops:
- Sybil-resistance for apps with Humanode API
- Connecting to Humanode chain
Prizes
$30,000+ in total.

Judging
All projects will be reviewed by the Humanode Team to determine whether the project submissions meet the minimum level of viability with respect to theme and submission requirements according to the hackathon rules, and then will be judged by the judge panel which will be introduced shortly.
After the hackathon, applicants will be able to apply for a grant through the Humanode Grant Program which will launch in Q3 2022 after the main net launch. Reputable VCs and Technology partners amongst our sponsors, such as Facetec and WinterMute are also here hunting for great ideas and teams, so gear up and sign up to build!