[Humanode Special Interview Series]: Dmitry, developer at Humanode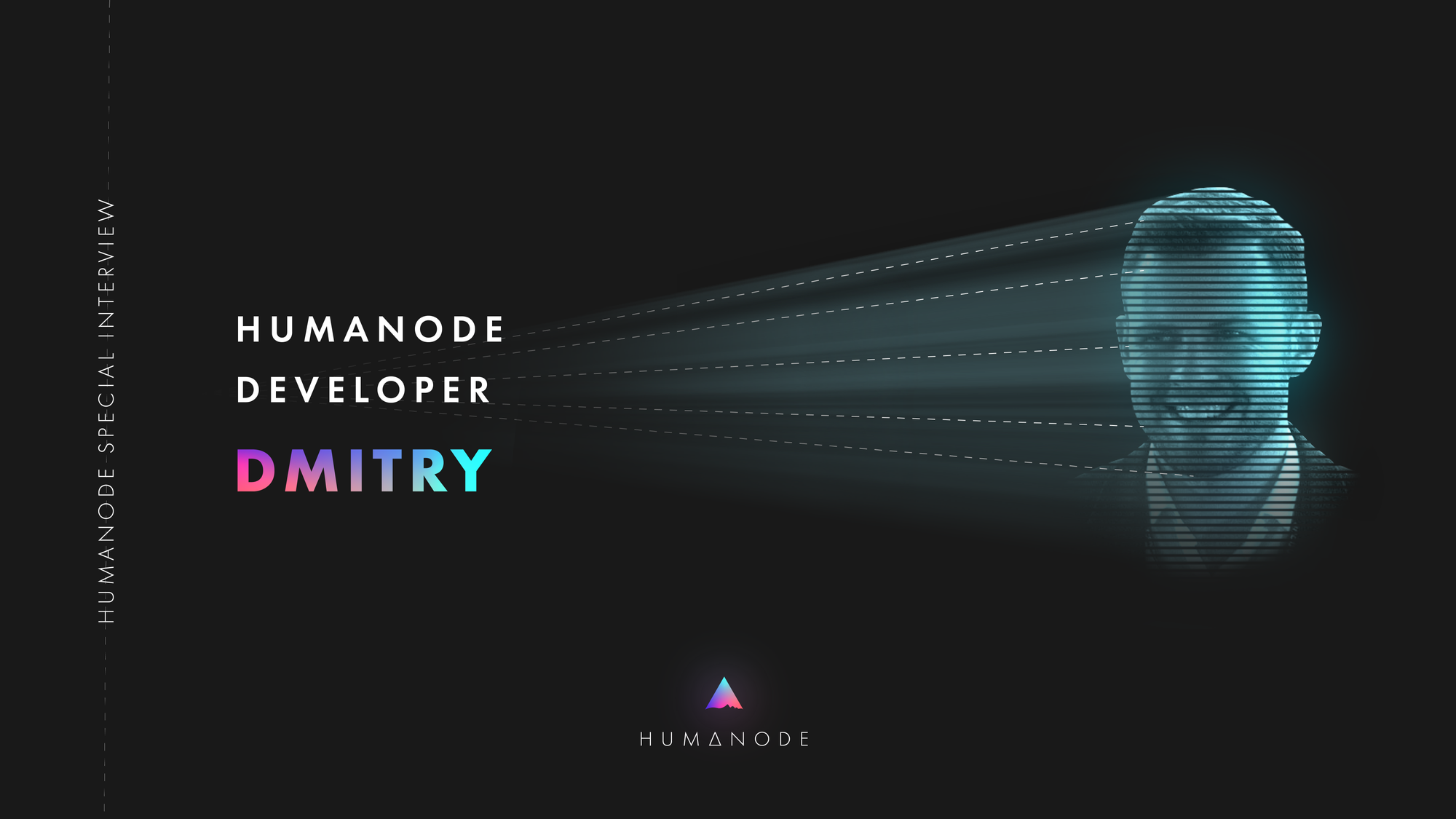 Hi Dima, tell us a little about yourself.  Where are you from, and what is your history?
Hi. I'm from Minsk, Belarus. But I was born in a little village called Pudovnya that is 250 km from Minsk.
If there is one thing that characterizes me, it is probably the fact that I'm crazy about difficulties and challenges. This is something that has been part of me ever since I have existed.  Even back when I was a kid, I had this firm belief that difficulties and challenges are good, because I believe that each challenge and every difficulty makes me stronger.
I guess that is why I would try to challenge myself further, and take part in different competitions, such as in math, programming, and sports, even back when I was 10 years old.  Maybe the secret is that my parents are teachers in math and PE, so I felt I had an advantage, or that I needed to prove myself in those fields.
Through the daily ups and downs of everyday life during my school and university days I continued to challenge myself, and as a result I was able to achieve some success in math (Silver winner in Belarus), in cryptography (Silver winner in international Olympiad NSUCRYPTO-2018), as a runner (Bronze winner at Belarussian state university).
Now I'm a mathematician and a programmer, and my main focus is in cryptography and blockchain, and in consensus algorithms.
As a kid, what were your dreams and aspirations?
I remember it clearly... I wanted to be a "secret agent that helps the world".  Basically, I wanted to be able to help people by investigating and solving their different and unusual problems.
Because of this, I was inspired to do my best at school and to learn as much as possible, even if it wasn't part of the normal school program, if I thought that knowledge would be useful somehow, somewhere, I would try to obtain it.
I really would like to thank my parents and my teachers for sharing their knowledge in a way that could answer my curiosity and help me achieve the various goals I had set for myself, especially because my curiosity had no limit.
How did you discover Humanode, and what got you interested?
Even before I came across Humanode, one thing that I would always do in my free time was to think about various solutions that could help the world, or solve the problems that we all face.  I even tried to launch little startups of my own to bring something useful to the world, especially in fields of blockchain and information security, by providing outsource services to figure out the customers' problems.
Unfortunately, it wasn't very successful as a business, but this experience was good for me, and I enjoyed the challenge.
Then one day, I got a request to take part in an interview with Humanode.
All I needed was a few minutes going through the abstract of their whitepaper to realize that the Humanode team was trying to address the issues such as solving the Sybil attack problem, challenging the new field of crypto-biometrics, advancing the boundaries of consensus research and so on.  It was like, damn, these guys are doing what I always dreamed of doing!  Once I realized that, I decided to give it my best shot, and do anything I can to pass the interview and become part of the team.  And, as you can see, thankfully, I managed to accomplish that.
What is your current role in Humanode, and what challenges do you face?
I'm a consensus protocol and DLT engineer at Humanode. Based on the fact that Humanode is an ambitious and promising project, naturally we face a multitude of challenges all time. But that is what is great about it.  I love the fact that we have such a great team of people that work together to solve the issues and face the challenges head on. If an answer is not available off the shelf, then we dive into research and development, study the issues from many different angles, look for the current possibilities, then look for the potentials for what can be, and bridge the two.
Currently, the most interesting problem that I am working on is coming up with a consensus algorithm that brings high performance yet low latency, while using the various unique concepts of crypto-biometrics that are fundamental to Humanode.
How do you vision Humanode 5 years from now? What do you hope to see?
I have no doubt that Humanode will achieve its goals and we will be able to provide a great platform: a stable and just financial network that relies on the existence of human life.  The platform that will ensure our economic freedom and stability and safeguard the future of our children, grandchildren, and many generations to come. I will give it all I have got, and do my best to achieve this goal together with this great team of people that I work with.
Setting Humanode aside for a moment, what do you do in your free time?  Do you have any hobbies?
I love to spend my free time with my family. I was inspired to build our own dream house with my wife Marina, and this challenge has been a lot of fun and has taught us much. Fortunately for me, and this is one of the reasons I love my wife so much, is that Marina also loves challenges.  So, when we decided to build our own house, we also decided to get involved in the whole process, from design, project management, controlling the budget, and the actual implementation of all of our wishes. We both knew we were not architects, and that you could just go out and hire someone to do it all, but we really wanted to understand the process. This way, even if we have to challenge ourselves to find workarounds to get the desired result within budget, or to find a way to overcome difficulties in the process for whatever reason, we will be able to do it together, grow together, and the house will really become something that we built together, turning this house into a home that we can share with each other.
And you know, this process has actually helped me with Humanode too.  There are times when I would get frustrated because I could not find an answer to a specific problem.  After banging my head against the wall for a while, I would go out to work on the house.  Then there at the house, there would be problems and challenges that I would have to face, and it would require me to think out of the box or make me tackle the issue from a different angle in order to get the desired result.  By the time I solve those issues and get back to my computer, the answer I was looking for often just appears out of nowhere. I would be like, "Gah! All I needed to do was think about this issue from a different angle, and the answer is right there! This issue wasn't even an issue! It was soooooo easy to solve!".
Aside from building my house, I like reading books about business success. But in most cases I am not interested in the success, but more in the process of how people got over their difficulties to achieve their goals. I believe that one day there will be many books about how the Humanode team challenged the impossible, overcame all of the difficulties, and how we succeeded.
Other than that, of course sports is part of my life as well: bicycling, walking, mixed martial arts.
What are your goals in life?  What do you want to be doing in 5 years time, then in 10 years time.
I don't have a lot of different goals, only a few of them are very important to me.
1. Happiness of my family.
2. Make as many people as possible happy.
3. Grow my business child. Thank you Humanode, for making me feel that Humanode is also a child of mine that I get to care for.
Basically, these 3 points are my goals for the next 5, 10, and 15 years…
What is your favorite food, favorite movie, and favorite rock song.
I would like to say that my favorite food is books.
Favorite movie is building a house and family life with my wife.
Favorite rock song is to overcome different obstacles at Humanode.
Humanode has just launched its first testnet.  What has been the most memorable about the testnet so far.
The most memorable is really the first days of launching the testnet: releasing our binaries, sending the first batch, getting first feedback. But the main thing that I have enjoyed was helping our first users with their issues. I felt so happy after resolving their problems.
I'm also glad to see that we already have about 100 launched human nodes after releasing testnet, with over 4000 people signing up to be a part of this endeavor. It's a great achievement.
Anything you would like to say to the community and the testnet human nodes?
There are a lot of different projects out there today, all with their ambitious goals. Humanode is a project in which the team is its most valuable part,  all united by the goal of making the world a better place. We will do our best to make this project a success, which we hope will lead to making the world a better and happier place.  And I can't stress enough that your participation at the various stages of the testnet are absolutely valuable for us, and we deeply appreciate your help.  Thank you.  All of you who are helping us with the testnet, all of you who have stepped forward to sign-up for the testnet even if your chance to become a human node has not arrived yet, and also all of you who are thinking of becoming a human node someday but haven't gotten around to it yet, thank you.  Your participation will make us stronger, and we can grow together.