[Humanode Special Interview Series]: Sasha, researcher at Humanode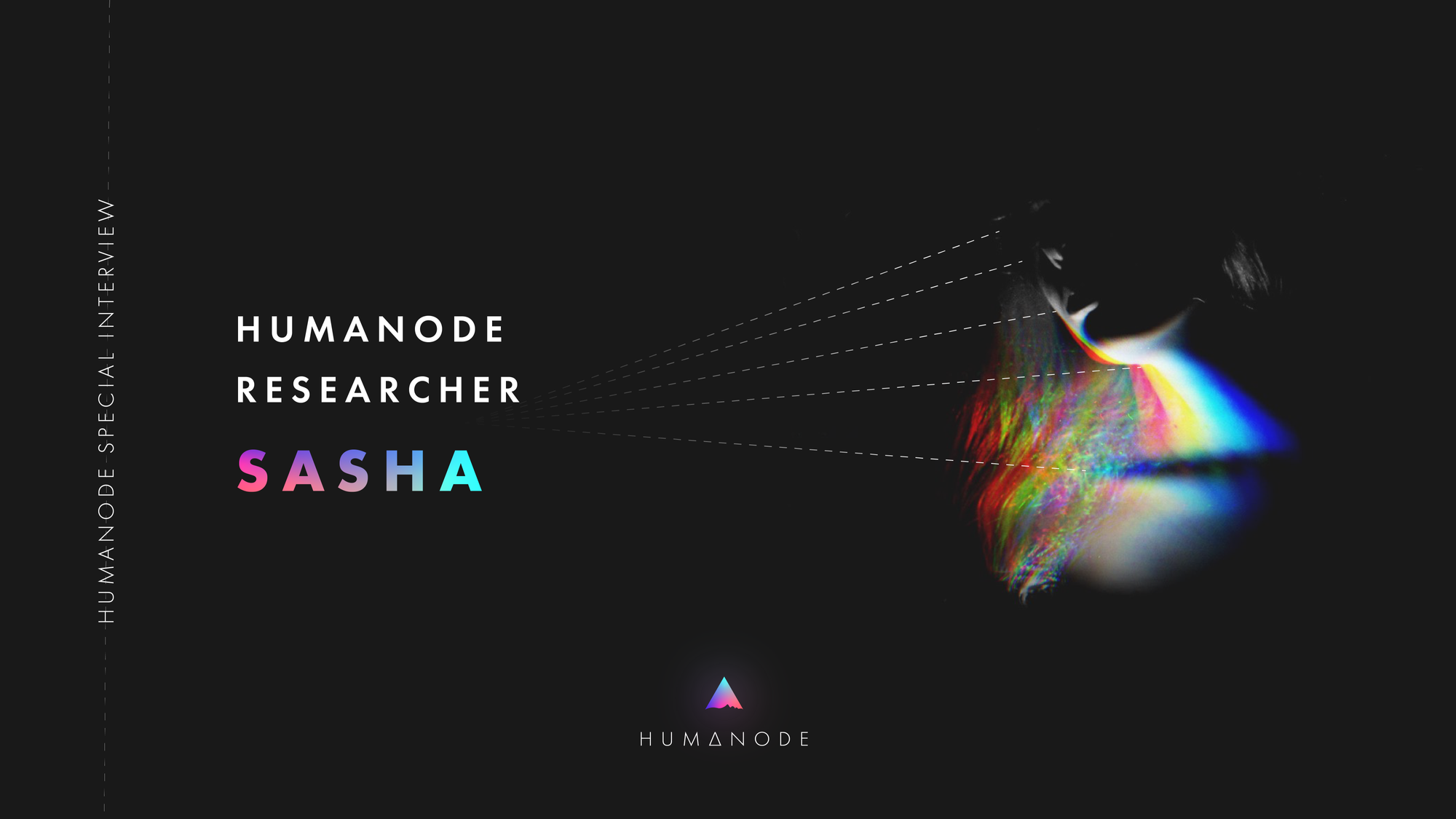 Tell me a little about yourself. Growing up as a child, what was your dream? What did you want to become?
I was born in Moscow, in a professors' family. Surrounded by representatives of the local academic community and Moscow bohemians since childhood, I've always been totally passionate about science and art. As a child, I gave preference to the humanities, and philosophy in particular.
However, somewhere deep inside my heart it always seemed to me that humanities are not enough to change the modern world drastically for the better, which was my biggest dream as far as I can remember. All I saw is that many people can peacefully live their lives without reading Kant or Camus, or without seeing Picasso's artworks, but on the other hand many people are facing various struggles and difficulties that could be either political, economic, or technological, which would heavily affect their everyday life. Probably at that time I was influenced by Marx's ideas that you need to change the basis first, and everything will come.
I knew that art and philosophy would be my forever-lasting vocations, but I realized that in their pure form they are likely to change only those people's lives who have already reached the top of Maslow's hierarchy of needs, so to say, and there are not so many of them. So, I decided that in order to change this world for good, I need to try to do something bigger that is located at the junction of the synergic relationship between humanities and other scientific fields.
What is your background?
It is varied. I've always been fascinated by very different disciplines. For example, I studied physics and mathematics in the lyceum at the National Research Nuclear University (MEPhI). At that time, I was one of the leaders of the 'Young Art Critics Club', enjoyed making art performances, and was a member of a rock music band, while learning to play the clarinet in the classical music school.
I love math and social disciplines. For me, learning has always been about research outside of the established framework of specific scientific fields. During my studies at the Faculty of Philosophy at Lomonosov Moscow State University, I also attended classes of other faculties hoping to find cross-disciplinary common ground.
And I was interested in journalism. It is known that being a journalist here in Russia is rather a tough deal. We still have unspoken censorship in our country, journalists are being killed here for telling the unpleasant truth. At university, I researched that field and came across the data journalism phenomenon. What I really liked about data journalism is that it is a type of journalism that is always about an investigation based on open and big data. Unlike people and facts that can be biased or manipulated, the collected data has the ability to speak for itself. I defended my Ph.D. thesis on this theme. Although at that time I had already moved from studying this phenomenon to discovering potentials of decentralization in the blockchain and crypto spaces.
In the 2010s, I met Victor and Dato, who founded a crypto fund, named Paradigm. I remember clearly how we were choosing a name for it, and Dato suggested Paradigm, philosophically substantiating this. At that time, we did not know yet that we would not be alone with such a name in the industry, and because of this, we have many funny stories revolving around the misunderstandings it caused.  
Initially, Paradigm was just an investment venture, which later grew into a full-fledged research institute, which I was fortunate enough to head as Chief Research Officer.
What else can I say? Not only that I met my soulmates, Paradigm became an embodiment of three of my passions collide: science, quality journalism, and crypto.
What do you do in Humanode, and how did you get involved?
Currently, my activity in Humanode is tied with research and media marketing. I have been involved in the project from the very beginning when there were only four of us. At that time, my research interests included biometrics, neuroscience, decentralized identities, and Sybil resistance. As I have a background in media, I got involved in the media side too.
The idea of the project first came to Dato a few years ago, but at that time there was no relevant technology stack to bring it to life. And thinking back, we had so much other stuff to do, we really didn't have the time to focus on it.  But the Covid19 situation and the closed borders forced us all to find ourselves in a common space for a fairly long amount of time, in which the research and generation of ideas proceeded at an incredible speed. Dato is a genius! He generated extraordinary ideas 24/7 until they took a tangible form in our research sketches. I give you my word that you will hear about them when the day comes.
Aww, first days of Humanode. It was all about pure research. And the process was so swift. And we were so madly enthusiastic. This resulted in the writing of the Humanode whitepaper, which took only a couple of weeks. If you've ever opened it, you can imagine what I'm talking about. Great work has been done in a very short amount of time.
Why Humanode?
Humanode is a quite unique and vastly ambitious project. It is all about equality, decentralization, and privacy. It is novel for the crypto industry, and for biometrics, as well as for economics and society as a whole. If you carefully read the ideas behind Humanode, you will understand that by applying them on a global scale, you can radically change the system in which we live.
You don't even need to look at the big-picture global use cases. There are so many niche use cases here. And every day new ones appear. Almost everyone can find something here for themselves.
For example NFTs, my favorite topic lately. Despite the apparent advantages of this technology, there are still a bunch of problems it couldn't solve properly. For instance, it is still difficult to find the original owner of the NFT and understand how many copies of it exist. Authenticity and copyright protection issues still remain. We at Humanode are developing biometric identifiers that are unique to individuals and highly reliable in verifying identity, without saying that it is fast and easy to use. They are likely to be tied in as an option for user identification in the NFT marketplaces and offer the most user-friendly way to interact with blockchain-based services for the non-techy users, for example, from art communities, as they will only need to scan their faces to enter these services as well as to sign transactions. Thus, Humanode gave life and name to a new phenomenon - biometric-based NFTs.
What are your goals concerning the growth of the Humanode community?
Well, I might say that if the project is truly valuable, the community will probably grow naturally. However, we at Humanode have a precise strategy and do our best in terms of awareness and interaction with our Hub, just in case.
Surely, building a strong community is one of Humanode's top priorities. Our goal is not only to grow it but also to give all the power of the network to people, hoping that the power of the community will lead Humanode to develop globally and will change the system for the better as a result. The Humanode network will be governed by the Humanode DAO named Vortex which will propose and decide on key parameters. It will consist of human nodes themselves, Delegators, and Governors. Becoming a part of Vortex will give access to different governing tools based on governor ranks, which are based on Proof-of-Time and Proof-of-Devotion, meaning that devotion in the system is valued more than the riches one has. We are creating a network based on equality of opportunity for all. One human = one node = one vote. That's the plan.
Moreover, there will be other ways to get the community involved. Thus, we develop a special grant-based program named Formation dedicated to supporting the network's environment and related technologies. Formation will provide investments, grants, and employment.
Needless to say, the Humanode community will grow alongside and mix with such king-sized developer communities of crypto ecosystems like Polkadot and Ethereum, as Humanode will be fully compatible with the last one. And I believe Humanode will unite not only crypto communities but fans of other technologies and even non-techy enthusiasts, as the project has so much to offer. It's not for nothing, Humanode's motto is 'Unity within', right?
Aside from work and Humanode, what do you enjoy most in life? Do you have hobbies?
Oh, I used to have. Paradigm and Humanode have been taking almost all my time and attention lately. And I think that's great because I do what I like and I am where I want to be.
Other than that, I enjoy open lectures, exhibitions of contemporary art, and underground concerts. At times, when inspiration comes, I write academic papers, draw nudes and make experimental music.