HyperGPT integrates Humanode's BotBasher to enable genuine engagements in its Discord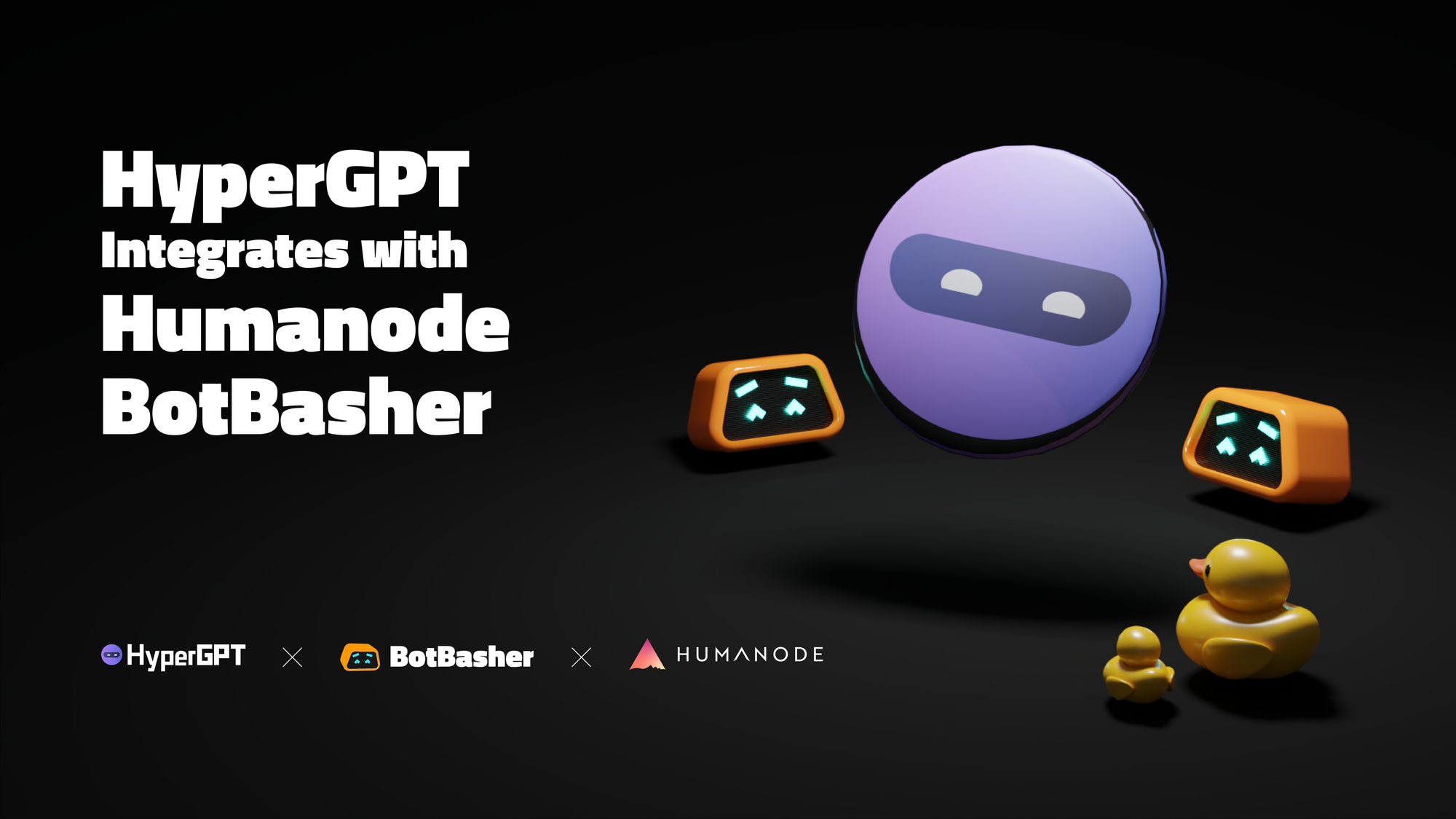 Imagine you're filled with ideas and enthusiasm to make your dApp stand out or mint your own AI-powered NFT collection but facing the all-too-common hurdle of navigating complex Artificial Intelligence (AI) technology. This is where HyperGPT, the latest addition to our BotBasher family, steps in – a platform that not only understands your challenges but actively works to simplify them. HyperGPT is the go-to place for those who dream of creating innovative dApps and personalizing NFT collections by making it seamless to integrate AI solutions into their platforms. It's where technical complexity meets user-friendly solutions.
HyperGPT, with its intuitive platforms like HyperStore, HyperSDK, and HyperNFT, is transforming how individuals interact with AI tech available out there. At Humanode, we deeply resonate with this vision of making advanced technologies more accessible. We understand the importance of nurturing a space where innovation isn't just for the tech-savvy but for everyone with an idea and a dream.
This shared vision has led to a natural and exciting partnership: the integration of Humanode's BotBasher technology into the HyperGPT community. The core of our collaboration lies in enhancing the authenticity of interactions within HyperGPT's vibrant Discord community.
What's this BotBasher thing, you ask? It's a Discord integration that ensures behind a Discord account there is, well, a real, unique person. With a simple, 15-second confidential facial scan, HyperGPT community members can now be verified as unique humans, and are assigned the 'Verified Human' role.
This 'Verified Human' role, while not mandatory, opens up new avenues for engagement and participation. For instance, when used with gamified contests on platforms like Galxe, Zealy, and QuestN, it ensures that only real unique people – not bots or multiple accounts – will reap the rewards for their participation. While this is just a single potential use case of BotBasher, we envision working with HyperGPT to ensure real human interactions in its Discord community.
Want to get this 'Verified Human' tag in the HyperGPT Discord community? It's easy:
In HyperGPT's Discord, click on the server name and navigate to Linked Roles.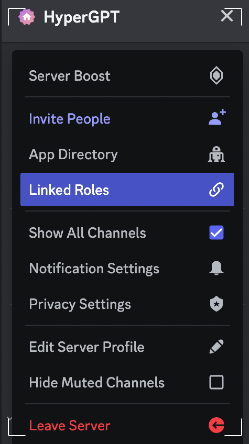 Select the 'Verified Human' role.
Proceed by following the on-screen instructions to complete your identity verification using a 15-second confidential facial scan (Note: No documents are needed, but make sure you are accessing from the Discord Account you want to verify! Only one Discord account may be tied to your face! If you tie a wrong account to your face, there is no turning back until the periodic BotBasher server reset when all data is wiped).
Once done, the "Verified Human" role will be auto-assigned to you upon successful verification.
This partnership is just the beginning of what we hope to be a long and fruitful collaboration, fostering genuine human connections in digital spaces and ensuring a more secure, equitable Web3 world.
About HyperGPT
HyperGPT 🤖 Power up Web3 with AI! Empowering blockchain and cryptocurrency development with the latest AI solutions, all accessible in one place. Join the community-driven movement and create AI-powered dApps with ease or share your own AI solutions with the masses.
About Humanode
Humanode is the first crypto-biometric network that provides Sybil resistance to web3 projects using private facial recognition. It can prove that one person has only one address or one account in a certain context. With no KYC needed or personally identifiable information collected, the process takes around 1 minute. Humanode is an EVM-compatible Layer-1 based on one person = one node = one vote principle.
BotBasher is a Discord integration by Humanode. It links a Discord account to a verified human identity through confidential facial recognition. Each user will be able to verify and get a role for one account, proving that there is an actual unique behind that account. Works natively with Galxe, Zealy, and QuestN.