Announcing Collaborative Paradigm x Humanode 'BioDeFi' Zealy Campaign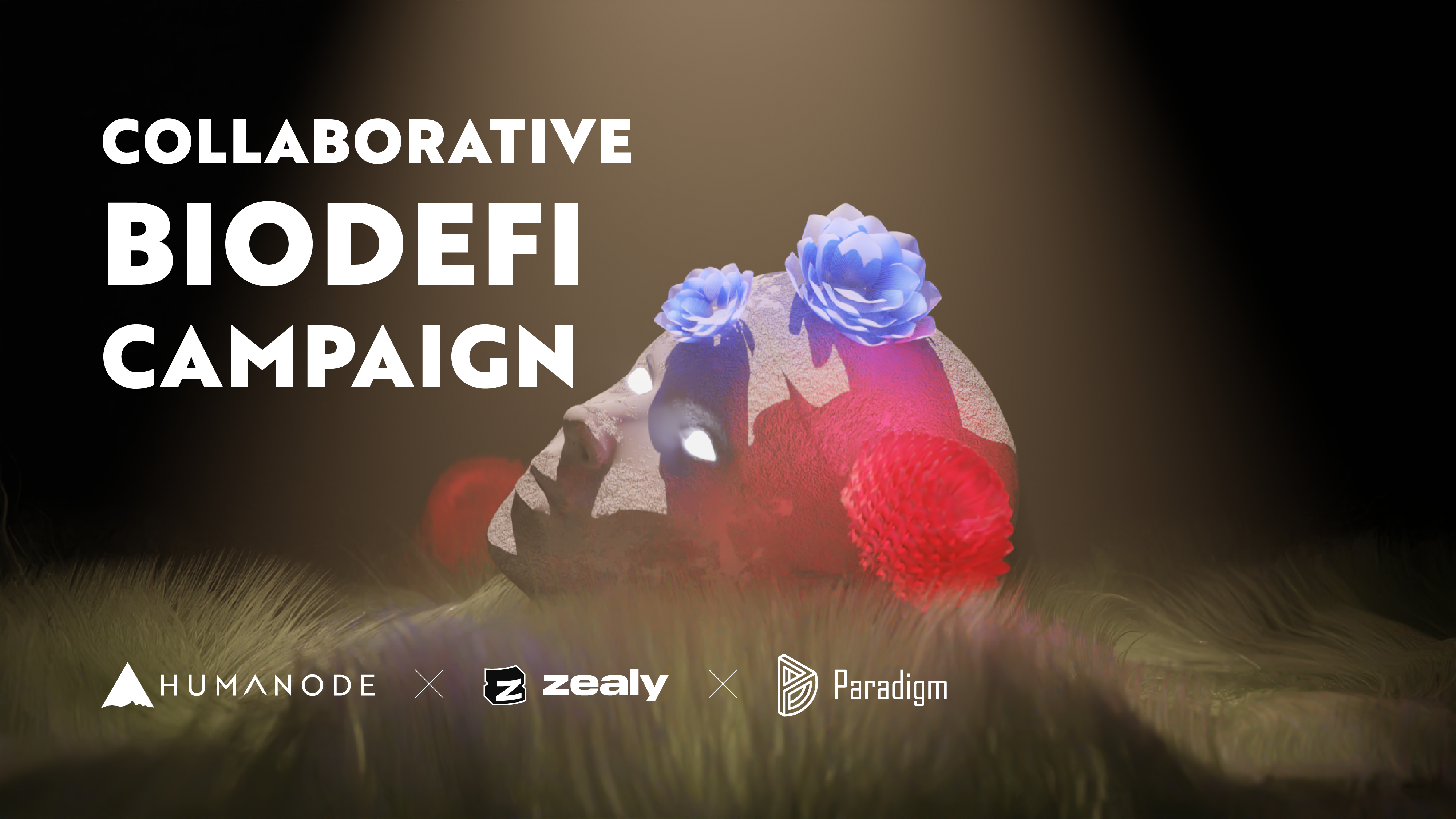 🔒What is Bio DeFi?
In recent years, Decentralized Finance (DeFi) has seen phenomenal growth, offering innovative financial services in a decentralized and open manner. However, DeFi's inherent nature also makes it susceptible to identity attacks, particularly Sybil attacks, where malicious actors create multiple fake identities to manipulate the system. These attacks can result in financial losses, and fraud, and erode trust in the DeFi ecosystem.
To address these critical challenges, Paradigm and Humanode researchers propose a groundbreaking approach — integrating Sybil-resistant techniques like biometric-based identity verification.
In the comprehensive paper on "Mitigating identity attacks in DeFi through biometric-based Sybil resistance," we highlight how biometrics can be a game-changer in the fight against Sybil attacks within DeFi. It's a powerful solution to ensure the long-term success and security of the DeFi ecosystem, bolstering trust and sustainability.
🎯The BioDeFi campaign on Zealy is here!
Are you ready to put your knowledge to the test and become a Bio DeFi expert?
Today, Paradigm and Humanode are thrilled to bring you a special Bio DeFi campaign on Zealy designed to examine your expertise in this exciting field! Get ready for a journey into the world of BioDeFi with a series of engaging quests and trivia that will test your knowledge and skills.
Campaign Highlights:
Bio DeFi Quests: challenging quests to deepen your understanding of Bio DeFi.
Bio DeFi Trivia: A whopping 70 trivia questions to test your expertise in the field.
Bio DeFi Emoji Trivia: fun and emoji-filled trivia questions to keep you entertained.
🔗 🔗 Here's the link to the 'BioDeFi' sprint Zealy Questboard:
https://zealy.io/c/paradigm/questboard?view=sprint
🦓 What is Zealy?
Zealy is an engagement platform that empowers communities to thrive by turning members into active contributors. It's all about understanding, activating, and growing your community while having fun along the way. Zealy is already trusted by top blockchain games, metaverses, digital asset marketplaces, and DeFi protocols like zkSync, ImmutableX, dYdX, as well as web2 giants like Renault, PMU, and LVMH.
🌟 Why participate?
Enhance your understanding of Bio DeFi, a cutting-edge field at the intersection of biometrics and decentralized finance.
Test your knowledge through a variety of quests and trivia questions.
Compete with fellow enthusiasts and prove your expertise.
Win rewards ($500 in HMND will be divided among the top 10 participants in the leaderboard) and recognition for your achievements.
🤔 How to participate?
Visit Paradigm's Zealy Questboard.
Log in to Zealy using your Discord account.
Complete quests to earn valuable experience points (XP).
The more XP you accumulate, the higher your rank on the Zealy Questboard.
Reach higher levels to increase your chances of qualifying for exclusive rewards.
Zealy will track your XP progress, so you can keep an eye on your journey!
Prepare for this Bio DeFi adventure with Paradigm, Humanode, and Zealy. Test your knowledge, have fun, and win cool rewards as you dive into the world of decentralized finance and biometrics!
Note: To participate in trivia quests you need to have a "Verified Paradigm Shifter" Discord role made possible due to the integration of the Humanode BotBasher tool into the Paradigm Discord server.
To get it, you'll have to go to the Paradigm Discord server settings and click "Linked Roles" and select the role you want to get. Once you do that, you'll be directed to the authentication page. Follow the specified instructions and you'll be assigned the linked role and authenticated.
🤖 What is BotBasher?
The Humanode BotBasher is a powerful application that has been created utilizing the Humanode private biometric verification technology, allowing Discord users to privately and securely verify that their accounts are owned by unique living human beings. This integration means that the content you engage with will be free from the influence of bots or automated accounts, creating a more trustworthy and reliable space for intellectual exchange.
Those who have been verified as humans will be able to tie one user account to the verification, giving them a Discord role as a "Verified Human'' (or in the case of Paradigm, a "Verified Paradigm Shifter"). The whole process takes under 1 minute to complete, and as the verification is semi-permanent (not able to change unless there is a total server wipe and restart of the verification servers), users will only be able to access the Sybil-resistant content with that single user account.
---
Paradigm is a research institute and a passionate and dedicated team that has been at the forefront of technology since 2013. The Paradigm team comprises experts and PhDs from diverse backgrounds, united by a common goal: to create a transparent information space by exchanging cutting-edge research from the leading scientific fields. With a firm belief in the power of knowledge and innovation, we strive to bring you the most relevant and impactful research in fields like distributed ledger technology (DLT), neuroscience, genetics, biometrics, robotics, space exploration, quantum technologies, and more. Our team's expertise spans multiple disciplines, allowing us to explore the intersections and synergies between various fields of science and technology.
---
Humanode, powered by the Substrate framework and a network of secure bio-authorized nodes, creates a fair, accessible, and Sybil-resistant platform for decentralized applications and collaborative organizations. Using private biometric search, matching, and liveness detection algorithms, Humanode achieves a decentralized yet private consensus mechanism. This inclusive approach allows real individuals to participate and earn rewards, preserving network value. With a one-node, one-vote system, Humanode revolutionizes decentralized governance, setting new standards in finance and governance.