Soul Society embraces Humanode BotBasher for Anti Sybil Checks in Discord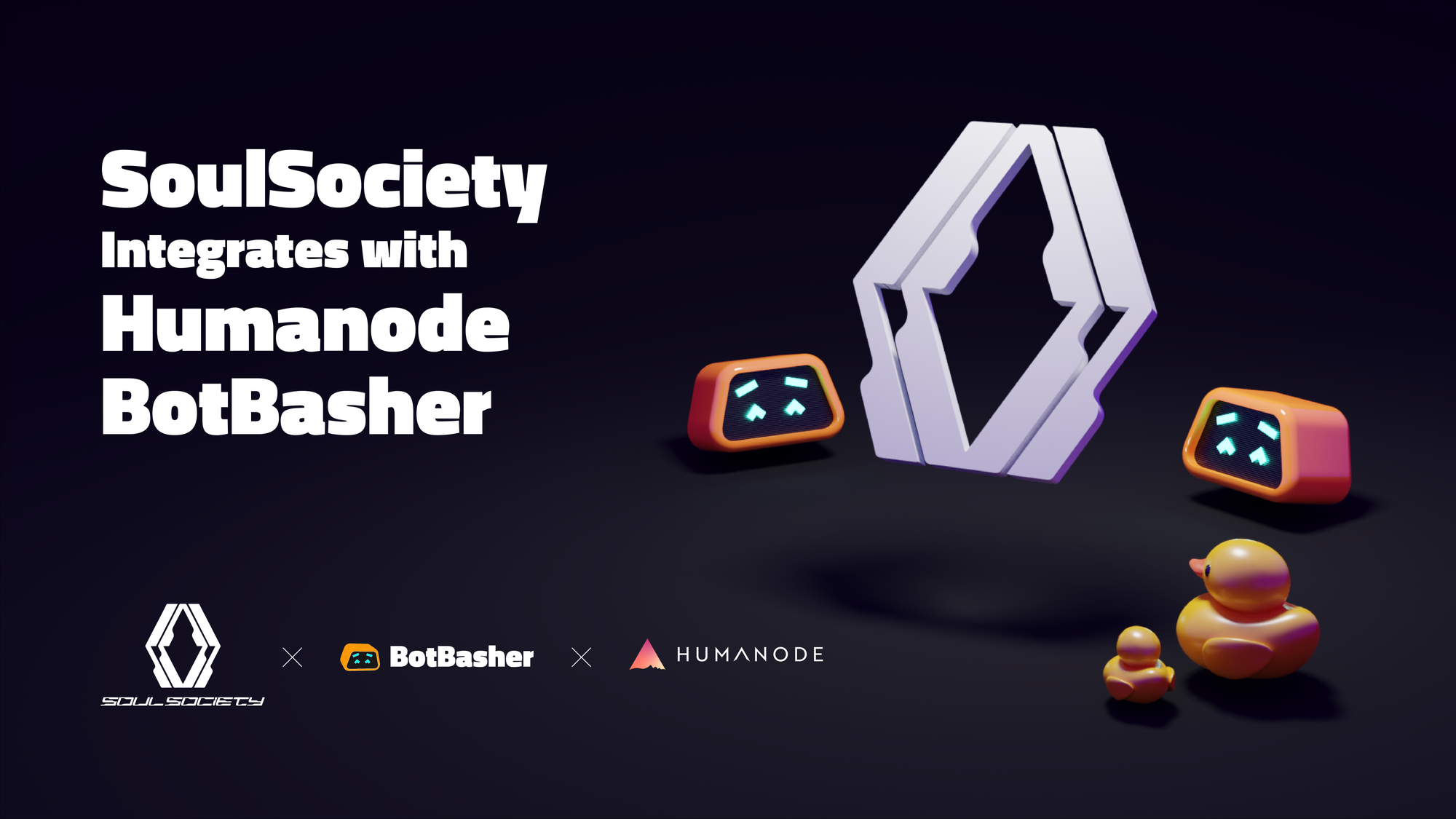 Imagine stepping into a world where your digital presence is as significant and tangible as your existence in the physical world. A place where every interaction is a reflection of your unique identity, every contribution, a testament to your individuality. That's the vision of SoulSociety, a vibrant Web3 ecosystem where digital reputation is no mere concept but a lived experience.
Just picture it: 22,893 individuals said "yes" to this vision during pre-registration. And when SoulSociety invited folks to test the waters with its first beta, the numbers spoke volumes—28,286 monthly visitors and 3,213 daily pals – that two within 3 weeks of launching the beta version. With a bustling Discord channel at 48K members, the vibe is undeniable, and daily quests have hit a record 11,621!
But to maintain authentic vibes, there's a challenge at hand: ensuring online personas are as real as offline. This is where Humanode's BotBasher comes into play. With a whopping 240K+ users and a presence in 300+ servers, adding Soul Society to our BotBasher family feels like scoring the winning goal in overtime.
So, what's the big deal with this partnership, you ask? It's pretty straightforward. Soul Society has a tier system on their Discord—climb higher, and you're rewarded with more access. And that's exactly where Sybil resistance becomes crucial because nobody wants bots and Sybil attackers to snatch away their well-deserved rewards.
Enter BotBasher by Humanode. Soul Society has integrated BotBasher's secure bio-authentication to verify that each member is a unique living person. Members of the Soul Society discord server can earn the 'Genuine Soul' role by completing a quick 15-second facial scan—private and secure, with no personal details required for verification. Rest assured, no biometric data is stored, and the encrypted data remains confidential; neither Soul Society nor Humanode are able to access it.
Read BotBasher's privacy and security for more details.
Being verified isn't a must if you're just casually hanging out on the Soul Society Discord. However, for those seeking to delve into exclusive features, the 'Genuine Soul' role is your gateway. For instance, Soul Society intends to gate the #Coin-exchange (a private discord channel where users can exchange their SSC tokens for USDT) via BotBasher.
Here's how to secure your 'Genuine Soul' role with BotBasher:
In Soul Society's discord, Click on the server name and navigate to Linked Roles
Select 'Genuine Soul'
Proceed by following the on-screen instructions to complete your identity verification using a 15-second confidential facial scan (Note: No documents are needed, but make sure you are accessing from the Discord Account you want to verify! Only one Discord account may be tied to your face! If you tie a wrong account to your face, there is no turning back until the periodic BotBasher server reset when all data is wiped).
Once done, the "Verified Humans" role will be auto-assigned to you upon successful verification.
This partnership is all about keeping it real and making sure the connections you make are with actual humans, not bots or fakes. With SoulSociety and Humanode teaming up, you're looking at a community that's safe, genuine, and a whole lot of fun.
To mark our collaboration with Soul Society, we've launched a special campaign on Galxe for our community members. Join the festivities here.
About Soul Society
Soul Society's Web 3.0 Social ID will be a verifiable digital reputation system reflecting the behaviors and experiences of our daily lives.
About Humanode
Humanode is the pioneering cryptobiometric network offering Sybil resistance to web3 projects via private facial recognition. It confirms that each person maintains only one address or account in a given context. The process is quick, taking about 1 minute, without requiring any KYC or the collection of personally identifiable information. Humanode operates as an EVM-compatible Layer-1, rooted in the principle of one person = one node = one vote.
BotBasher, a Discord integration by Humanode, binds a Discord account to a verified human identity through confidential facial recognition. It allows each user to verify and acquire a role for a single account, establishing their unique presence. This integration is compatible with Galxe, Zealy, and QuestN, enhancing security and trust within the community.